Baby Gender Predictor
Enter baby's conception month and birthdays of both parents to determine the sex of a child.
It is a Girl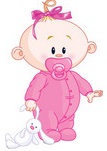 Either plan new pregnancy or check the accuracy of this formula by using conception month of your existing kids. Note that sometimes formula cannot convincingly determine the gender of a baby.
You may find more convenient a Calendar view for this baby gender predictor. It has 5-Year Calendar showing which months will give you better chances of conceiving a boy or a girl.
About Baby Gender Predictor
This baby gender planning formula was given to my wife by the old lady, who claimed that it was very popular with Transylvanian/Galician gypsies at the time of Austro-Hungary. Calculations in this formula are in someway tortuous so I decided to create a small program to make it easier to check the legitimacy of this method. After using lots of parent/child birthdays I can assert that, strangely enough, it worked in a disproportionately large amount of cases. We even planned and got our baby-girl using this method.
Is this method really effective? Honestly, I doubt It. But do not mention that to my wife. She is a true believer. After all, we did get the girl! How does it appeared to yield about a 75% success rate!? Pure luck!? Coincidence!? Insufficient number of test cases?
Test it yourself and have fun!
---